Hey. I'm going to be sharing with you a review of a new laptop bag for women that I've been toting around at work for the last two weeks. I will say you know over the last two weeks I have already fallen in love so these opinions are my own. Let's get into the laptop bag.
This bag is such a great size awesome for work. It's 16.7 inche and 6.7 inches wide and 12inches tall. It has these really great handles and the handle drop is 9.5 inches so definitely a good height in the drop for a handbag style.
@YellowBrickExpat on Youtube
In terms of its material and texture, this is a polyurethane leather so it is that kind of faux leather. If you're cruelty free if you're vegan, this is a great option. If you want that leather look but you don't want real leather and in terms of its texture there is a little bit of a crisscross. It's almost like a saffiano kind of texture that you often find especially with like michael kors bags. So I really enjoy that texture and I do like that kind of saffiano texture that I get with this bag. Now in terms of its hardware it has gold hardware with those gold accents as well another accent.
I really like that there are feet here. It definitely keeps the bottom of my bag from getting too scratched up especially on our tile floors that we have at school. So really love that there are these gold finish feet on the bottom. It opens up pretty wide this is going to fit a laptop that is 15.6 inches by the way so if that's what your laptop is it'll definitely fit in here so I have this large space here in addition I have tons and tons of pockets and zippered areas as well so I have a zippered pocket here.
There's tons of space here I love that it's so easy to keep my stuff organized in this bag all day because as a teacher as someone who travels around the building throughout the day. This has been an amazing piece to carry with me and keep all my stuff in as well.
I'll talk about and it's a feature that I would have never thought about but I absolutely love it on the inside. There is this kind of like ring that hooks through a string and it hooks into the bag.
It's a really great feature for securing something like keys or an id card or whatever again great feature there. it definitely keeps it from flying around the bag but also falling out of the bag too.
I do like about this smaller case that comes with it. I know this is really specific but I love that the zipper goes all the way around. It definitely helps me to open up this smaller pouch and just find anything in it very quickly so this pouch is advertised to be kind of like a multi-use pouch. You can either put cosmetics or electronic kind of accessories in it.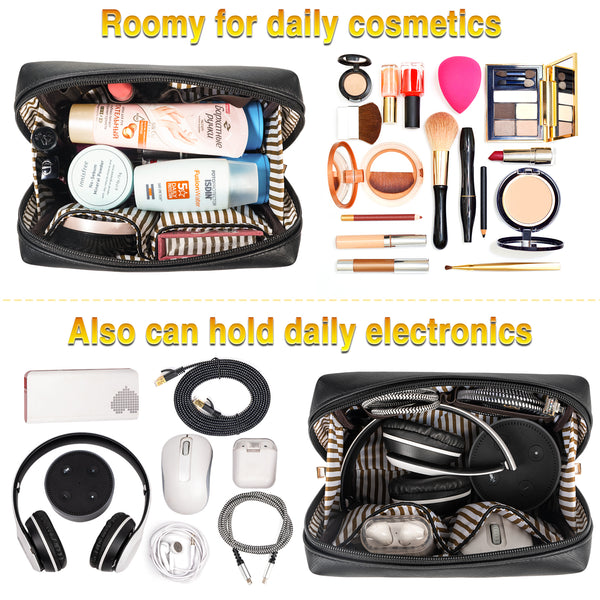 I've been carrying it every single day and I adore it it is amazing especially if you are on the go at your job. If you're always carrying around a bunch of stuff, I would totally recommend it.
Thank you nice review by @YellowBrickExpat on Youtube.
Check video reivew  now.