The lunch backpack is a good companion in school, work and life. It can keep the lunch fresh and provide us with energy. And it can be convenient to carry personal supplies. If you are looking for a new lunch backpack on the market, here is a list of 6 key features. Make sure your lunch bag best suits your child's needs and habits!
One: insulation material
Insulation is the key to keeping food and beverages cool and fresh. The thicker the insulating material, the better the insulation performance. If you are not sure whether the lunch bag is insulated, check the main features of the product packaging. At the same time, lightweight and high-quality insulating materials can reduce the weight of the backpack and reduce the burden on the back.
Two: easy to clean
Lunch is often dirty! Or, at least some of them are. When you buy lunch bags for your children, make sure their materials can be wiped or cleaned easily and dry quickly.
Three: portability (handle and shoulder strap)
There are many options in terms of portability. Some lunch bags have clips that can be hung on the backpack, and some have shoulder straps. There are also many options, functional pad straps and handles are easy to carry during a long commute to school or work.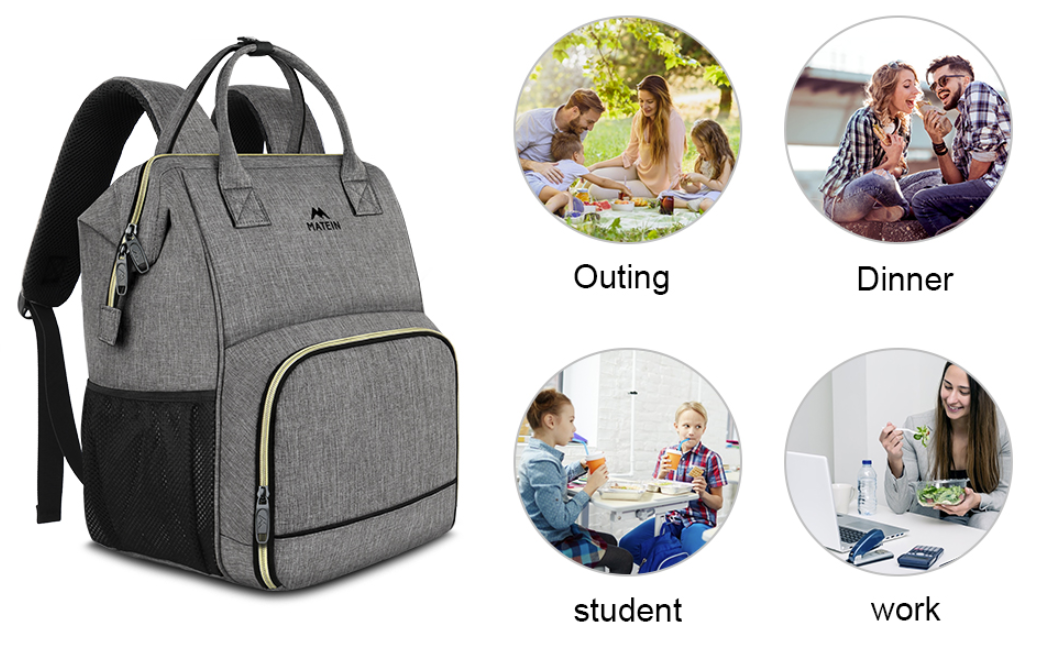 Four: durability
Try to find a lunch bag with a hard liner! This will not only provide a protective barrier to prevent food from being crushed, but the liner can also be removed freely for easy cleaning.
5. Cute factor
The choices are endless. When you go back to school to buy box lunch backpack, take your kids to Walmart or Costco and let them choose their favorite lunch bags. Cute patterns can add color to your life.
Six: Price
Finally, the price. Don't spend all your money on expensive lunch bags, because you are sure to buy a lot of bags every year. There are a lot of high-quality and inexpensive options, they have all these key features, and there are many more options to make you and your kids happy.
MATEIN lunch backpacks are now sold on Amazon USA, choose your favorite lunch bag and bring happiness home. We made high-quality lunch bags seriously!