Can you imagine a day without a screen? Whether we like it or not, our laptops, smartphones and other personal devices are indeed essential to our work and personal lives, which means they must be inseparable from us . Since the emergence of the coronavirus, the number of people working remotely or at home has increased sharply. As our work lives change, new demands for work laptop bags have also emerged.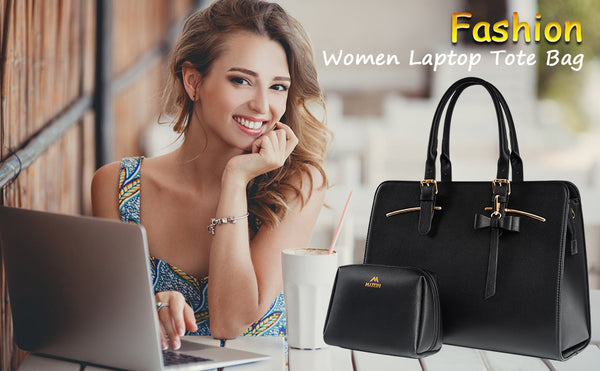 What should you consider when choosing the best tote bags for women?
What does your laptop bag mainly for?
Let me talk about the important things first: What do you mainly use this bag for? This will help you decide the material and style of the bag you need.
If you plan to use your laptop bag several times during a week's commute, or it will become a must-have bag for almost any occasion (general travel), then consider choosing a lighter, wear-resistant material, such as high quality Of nylon. Combines a professional look and advanced feel, while providing extraordinary durability, if you use it every day.
If the real purpose of your new laptop bag is the look and feel part, choosing a more luxurious leather bag depends on your personal style, such as a briefcase, backpack or handbag, is perfect. It is very important to carry a bag that suits your personal aesthetics and makes you feel like the person you want to be seen-that's why we recommend starting with materials, as it will lead to the overall feel of your product.
However, it is important to pay attention to how the material of the product will affect the weight and cost of the laptop bag.
How much should a laptop bag weigh?
Due to the extra pads, straps, buckles and pockets, most laptops or computer bags weigh between 1 kg and 2 kg. Although leather products look great and provide high-end styles for those who work in traditional environments, leather is a particularly heavy material, especially when adding actual content to the bag.
If you are going to use your laptop bag in a less "serious professional" environment and just keep your laptop at hand when you travel, we recommend you choose a lightweight, casual laptop tote.
What size laptop tote do you need?
All MATEIN computer bags are equipped with specially designed, padded equipment compartments to ensure that they fit all shapes and sizes of computers, from 8-inch tablets to 15.6-inch laptops. Before you choose the right laptop bag, you should check the product descriptions of these laptops, in inches (or centimeters).
You want to make sure you measure the laptop screen correctly and leave enough space for the laptop frame-the edges around the screen. It should be noted that laptops of different brands have different sizes of screens and bezels, which is particularly important for macbooks. Compared with other popular brands of laptops such as HP, Acer, Samsung or Dell, the latest MacBooks are thinner and have smaller bezels around the screen. For example, a 15-inch MacBook Pro is very comfortable to pair with the popular 14-inch Beauchamp backpack, and it is also very suitable for a 13-inch MacBook Pro.
What do you usually put in your tote bag?
Is your luggage light? Or do you prefer to take the entire office around? It's not fun to squeeze the bag tightly, and it feels empty while holding a bunch of empty things; once you know the size of the laptop you are carrying, you are investing in you Before your new laptop bag, it's necessary to strategically think about what you usually put in your bag (we even recommend putting it on the table).
One of the most popular female laptop bags (MATEIN tote laptop bag). Fitting up to 15.6" devices, the whole grain leather bag has a large space to hold lunch Tupperware or an extra pair of shoes, keeping the full-length zipper closed discreetly. If you want to keep your phone, travel card, or key at hand, just use the hidden top pocket so you don't have to dig through the main part of the laptop.
Most importantly, you want to know that your bag will play its role well, and it will continue to play its role for a long time. MATEIN's bags are carefully crafted, materials are selected purposefully, and the best work is done for the design-light, luxurious or...Each bag has a lifetime warranty to ensure that in case the worst happens, your The bag can be repaired or replaced to ensure that you always have your MATEIN by your side.
Finally, choosing the best laptop bag will make you feel the most comfortable and confident. When each of us achieves our dreams in our own way, it is necessary for us to do so with pride.
We hope this guide is helpful for you to think clearly about what kind of laptop bag is right for you. Remember the three main questions: what material, what style, and of course what size laptop bag is used to hold it.
Related Questions:
How to choose laptop tote bag?
How to make a laptop tote bag?
What's in my school tote bag laptop?
Where to get laptop tote bag?