Bring two pieces of everything. Try to avoid wearing suits. Instead, bring only the clothes you absolutely need. This way you can pack more things in your suitcase, and you can avoid bringing multiple suitcases or smart travel bag. In addition, you will have more room to buy and bring back items from your trip
Try to bring only 2 tops, 2 short sleeves (if the weather is cold, 2 long sleeves), 2 pants/shorts/skirts, 2 underwear, 2 pairs of socks, 1 jacket, 1 pair of shoes, 1 pair jeans. Remember, you can buy extra clothes while traveling.
Neutral clothes are easier to mix and match to create new combinations.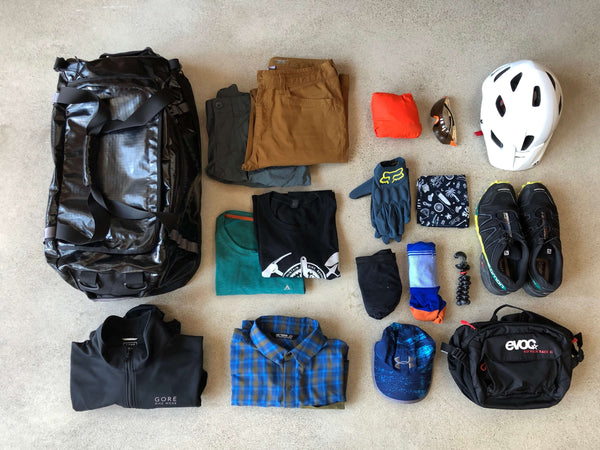 Bring only basic toiletries. Basic toiletries, like toothbrushes, toothpaste, deodorant, contact fluid (if applicable to you), soap is the only toiletries you really need. Put them into travel toiletry bag.  In addition, try to buy products that can be used for multiple purposes, especially cosmetic products. Travel-sized products are also cheaper than ordinary products and take up less space
The makeup stick has multiple functions and can be used as blush, lip color and highlight. Eyebrows and lip liner can also double as eyeliner.
Dr. Bronner's magic soap can be used as a shower gel, shampoo, and even toothpaste.
Don't bring expensive cosmetics, go to discount pharmacies to buy cheap products, such as CVS and Walgreens.
Packaging efficiency. By packing effectively, you will be able to pack more items in your suitcase. Don't pile clothes in suit garment bag, but roll them up tightly. You can also use your shoes to add extra space and tuck socks and underwear into your shoes. Wear sweatshirts and jackets on the plane instead of packing them.
Bring a clean garbage bag so that you can separate dirty clothes from clean clothes.