When choosing a handbag, you should not only pay attention to size issues, but also consider issues such as color, straps, accessories, materials, your body, and the shape of the handbag. Here are a few simple tips for reference:

1. Bright color handbags are the most eye-catching
Wearing jeans and a T-shirt or a traditional dark suit, a bright orange, red or pink tote handbags can make your overall image shine instantly.

2. Small handbags are the most convenient
If the pockets of the dress are filled with things, it will give people a very messy and bad feeling. And making a small handbag full, although it is very convenient, it will seriously affect its appearance. If you have a lot of things to take out, a large handbag plus a small handbag would be a good suggestion. You can hide the handbag in a large handbag, which is convenient and tidy.

3. Black and brown women handbags are the most classic
There is no time, energy or capital to match various handbags for your daily wear. All-match black and brown handbags will be your best choice! Such a combination can not only set off the skin tone and color level, but in some cases, it can also make people refreshing.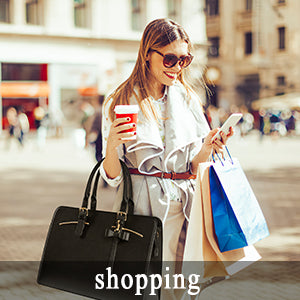 4. The double-use bag that can be carried and carried is the most practical
A dual-purpose handbag that can be carried by hand or carried on your shoulder is very good, and it can be changed at any time according to your needs or clothing collocation. Best for young girls to go shopping.
5. The chain handbag is the most elegant and exquisite
Using metal chains as the bag can increase the exquisite and fashionable feeling of the handbag, and also help the clothing to improve the exquisiteness of the overall shape.

6. Rivet handbags are the rockiest
A handbag with heavy metal decoration will make you look cool. This is also the type that many young people prefer.

7. The bucket handbag has temperament
Cylindrical vintage handbags give people a sense of elegance like a lady, and are very suitable for work and formal occasions.

8. Choose a handbag according to your body shape
If you are a petite girl, never carry a handbag that can cover your whole person. Some small and medium-sized bags will be more suitable for you. And for tall girls, don't choose very small bags. Because these bags will instantly imbalance your body proportions, choosing a large or oversized handbag is the best choice.
Shop hot topic bags now