Whether traveling for business or leisure, most people carry a carry-on duffel bag with them. Some carry secure travel backpack, some wheels, some big, some small.But what size carry-on bag is the best?
At the end of the day, it really comes down to what you need in flight versus what you want, and then finding a balance.It also depends on why you want to carry a carry-on bag in the first place.Do you just want to get something ready for the flight, or do you want to have everything you need for the entire trip?This guide to the perfect size carry-on luggage takes all this into account and offers you three different options.Light carry-on, medium carry-on and large carry-on.
Light Carry-On
When traveling, light is usually right. This means you have the freedom to cross the border quickly without having to fuss around, but still have everything you need. For most flights, the basics are a phone, wallet, passport, and perhaps some headphones and Kindles to complement the entertainment on offer.You may also want to bring a bottle of water.
Any place up to 18 liters will meet all of these requirements, but if you want to really lose weight, it's recommended to keep it below 10 liters.If you are looking for a popular item to carry this item, slings are great for men, while slim travel backpack or crossbody bags are perfect for women.The benefit of these options is that they are easy to install under the seat in front of you and avoid the hassle of finding a slot in the overhead compartment on a busy flight.It's also great as a handy travel bag, but it's fun on the go.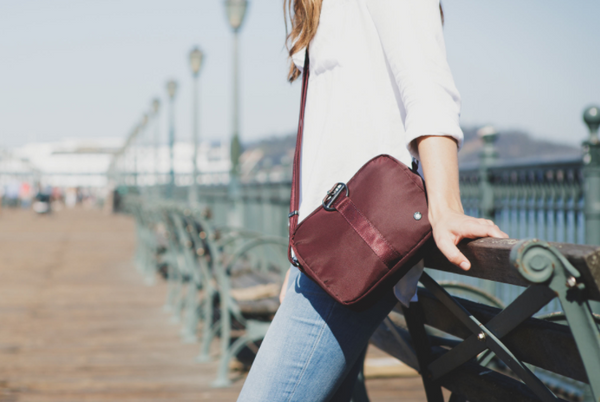 Medium Carry-On
Most people heading for the plane will probably opt for a medium duffel bag.
Backpacks are usually better because they balance out the ease of carrying without the need for wheels that increase their size.
The ideal size of carry on backpack is between 24 and 28 litres.
This size allows you to store your laptop, charger, flight suit, reusable soft drink bottle, headphones, laptop, passport, wallet, phone, glasses and small cosmetic bag.
Sometimes, the right size carry-on items are carry-on items that allow you to avoid checking luggage.If you're going away for a week or more, it can be tricky.It's always worth knowing your airline's carry-on restrictions.Generally, however, the maximum is 45 liters, depending on the size of the bag itself.That means, if you're smart, you can pack a spare pair of shoes, a suit that can be combined into multiple outfits, and all the essentials for flying.