Makeup Hanging Organizer Description
Makeup hanging organizer Size: 12.5*5*9 inches;

Makeup hanging organizer Weight: 1.53 pounds;
Chic pink makeup hanging organizer is perfect for women. This adorable hanging cosmetic bag is made of water resistant & 100% brand new of high density durable artificial leather ensure long lasting usage. There are four parts of womens toiletry bag to organize your makeup and toiletries. This makeup hanging organizer also can be used as an electronics travel organizer. What a multifunctional hanging cosmetic bag!
Toiletries Bag of Brushes Compartment
Makeup Brushes Compartment of this hanging toiletry bag with transparent cover protects the organization from powder dust, also special space for lip balm, eyelash curlers and eye shadow.
Full-Sized Elastic Straps
Full-Sized Elastic Straps of this travel makeup organizer case keep large travel essentials like shampoo, lotions, toiletries bottle, various sized makeup bottles upright, prevents the liquid from escaping, protect the cosmetics shaking and falling damage.
360 ° Rotatable Matel Hook
360 ° Rotatable Matel Hook of this large travel makeup bag allow you hang it up from a wardrobe rail, door knob, coat hook, shower, towel rack or tree trunk.
Toiletry Travel Bag of Waterproof Fabric
Matein travel toiletry leather bag is plenty of room for daily use. Waterproof fabric of this makeup bag is perfect for wet conditions, easy to clean, hung in the bathroom, shower.
Water-resistant Travel Bag
Travel bag with water-resistant durable wipe clean fabric to protect your cosmetics and toiletries.
Toiletry Bag of Half Opening Design
The second compartment with half opening design for easy access toiletries bottle and makeup case from this toiletry bag.
Makeup Bag of Elastic Clasp
The third compartment with an oversized elastic clasp, can free combination put different size items, travel accessories, towel, bottles in this women's toiletry bag.
Multi-functional Integration
Multi-functional integration: This makeup travel bag also can be used as an electronics travel organizer and cable case, suitable for data cables, mobile phones, chargers, tablets, power supplies, headsets, U disk, digital cameras, etc.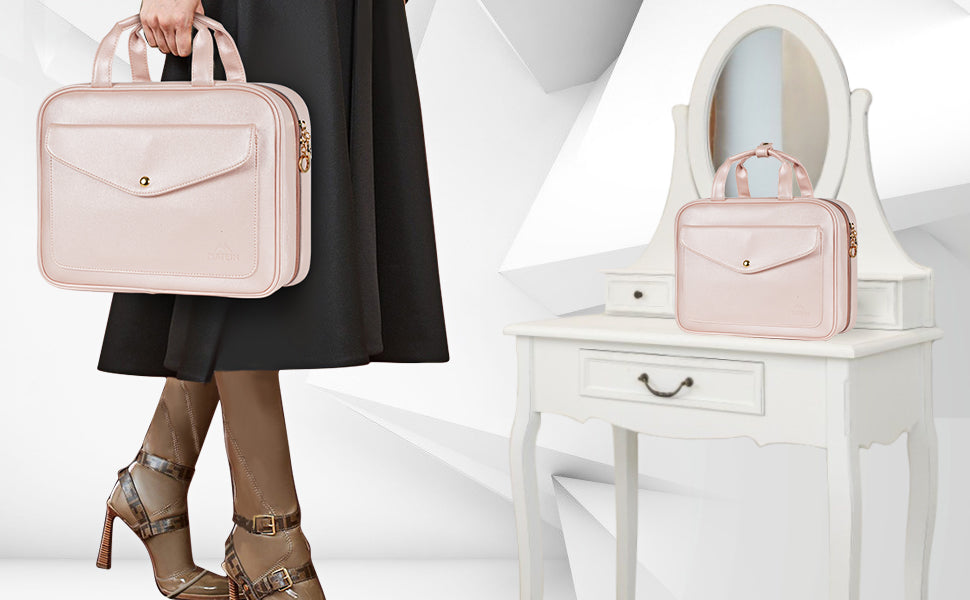 Warm Tips: There may be some smell when the package arrives, but it will dissipate after a few days, the smell is non-toxic, please don't worry. If you are looking for cool travel gifts either for women, girlfriend, wife, sister, daughter, girls or even teens, this toiletry organizer dopp kit will be your best choice.