Are you looking for a new backpack for nursing students? So, how do you choose a suitable nursing school backpack? These are some things to be aware of when choosing the smart backpack for nursing students.
Comfort and support
 
You should note that when choosing the best backpack quality, support and comfort are closely related. In fact, these factors are very important because they allow you to wear your backpack correctly for a long time without muscle pain, pain or fatigue. If you have an uncomfortable backpack, it cannot provide enough support for your weight. Not only is it terrible to carry, but it can also cause neck, shoulder and back problems.
Size
 
You have to make sure that your backpack has enough space for all your things. In addition to loading books, it should have space for other equipment. The trick is to find the right backpack that suits your needs. In fact, you should avoid using large backpacks because you may be at risk of overloading. However, it can't be too small, so you won't have enough space.
Compartment
 
Make sure to check the pockets, accessibility and compartments of the backpack. Knowing the type of pockets or compartments required for the equipment you carry with you can help you find the best backpack for nursing school. In addition, it allows you to organize your backpack in a reasonable way.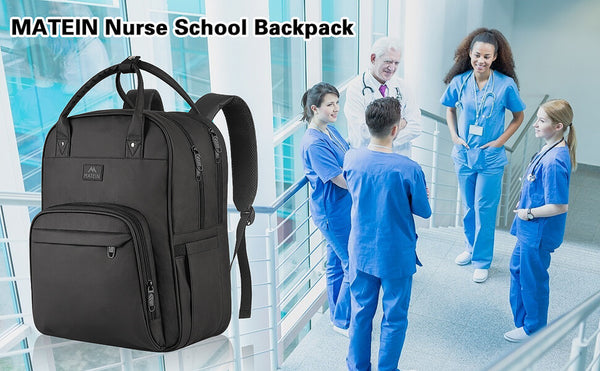 Durability
 
Durability is very important, take into account the number of books you are going to bring. The best nurse backpack should be durable. You don't want to buy a backpack that will disintegrate in a few months. Instead, you should buy a backpack made of high-quality, durable materials. Make sure your backpack can withstand sharp objects and heavy loads. Another thing to pay attention to is the resistance of water. This will protect the outside of the bag from snow and rain.
Design  
 
The design and style of the backpack are what most nursing students forget to consider when choosing a backpack. It is recommended that you buy a backpack with good design and style.