I have been thinking, when traveling, which backpack and messenger bag are the best choices? Several times you left your large carry-on luggage in the hotel. I have seen some people think that backpacks are both heavy and comfortable, while messenger backpacks are more suitable for pickpockets and easier in crowded places, making you less noticeable.
What is your preference?

In terms of pros and cons (I won't double it, so if it's good for one party, I assume it's bad for the other)...

Messenger bag
Advantage:
More fashionable
Smarter 
Less wrinkle my beautiful clothes 
Let my back sweat less/let my back breathe more
More accessible 
Not likely to overpack*
It can be rotated in front without being completely disassembled (sitting on a bus, in a crowded space, such as a market).
Disadvantages:
Set the load to one side, if the load is too large, it may cause problems
Smaller capacity 
Not very stable during exercise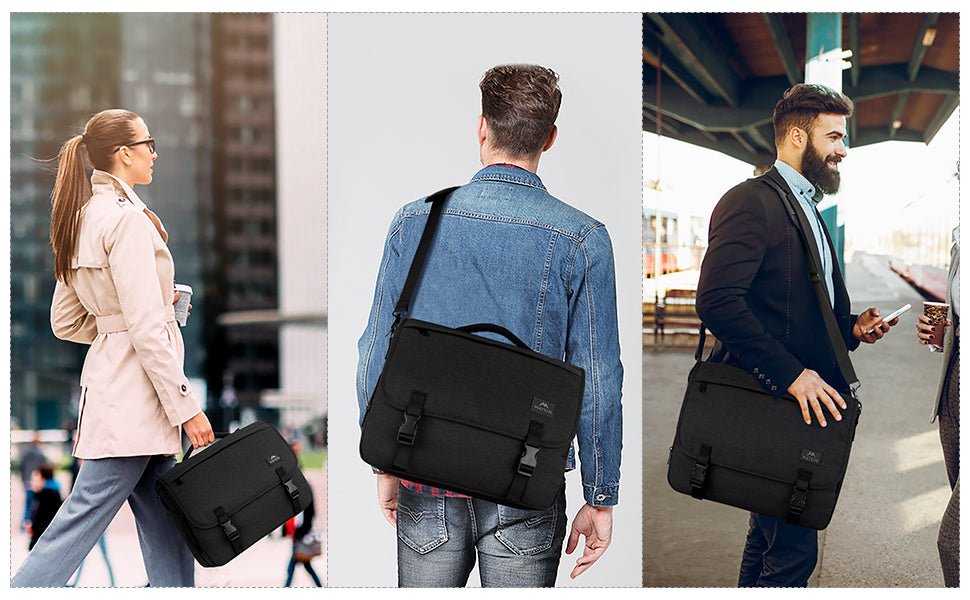 Backpack
Advantage:
More comfortable
Better load carrying capacity 
More features 
It is easier to pass through narrow spaces (provided you have a reasonably sized bag).
Some structures (such as MATEIN large travel backpack) can be provided to aid packaging.
Disadvantages:
It looks a little strange to wear in front (compared to messenger)
I always bring too much
Looks a bit like a tourist or a nerd
It is easier to be caught by pickpockets (but there are ways).
I used to deliver express. It's unusual to see that I don't have a bag of different sizes. The bag is basically a 13-inch canvas rectangle with only my sunglasses and a bottle of water inside. Walked all the way to a real overnight bag, hung on my shoulder.
I am a permanent student, so there are often a lot of books there, plus a laptop. Unfortunately, this seems to have caused damage to my back (and sitting at my desk for many years), so now, as a messenger, it's not just a laptop and a bottle of water that I carry with me. I have a backache. But I still bring one from time to time!
I think the messenger bag looks better and more casual. In addition, as I started above, through my daily affairs, I find that they are easier to access while on the move. Whether walking or sitting on a train or bus, I find it easier to put them in front of me and find them in the front zipper or back pocket (this is my essential equipment for sending letters).
However, these days, I think I tend to choose a backpack, mainly for comfort reasons, but also because it is more stable than a postman sitting up. How many times have I been sitting on a bus or train when someone's parcel was thrown out and hit me on the head... You have a great time here.
The main reason I chose a backpack is that it allows me to afford the extra size and versatility. There are a few times when I travelled and decided to buy daily necessities (groceries, bottled water, etc.) or gifts. Ruck is usually easier to swallow and carry these things than my messenger. Similarly, I also like to stuff my jacket/hoodie into my backpack just in case. *These days I usually only bring it when the messenger is empty (for the reasons mentioned above).
Nevertheless, I still have to say that having a small messenger accompany me to a bar or restaurant is much more comfortable than dragging a rucksack in. Of course, I think it's mainly because the things you bring are too big.
I don't think all things are of much help, because I have both, and I want to use them. I think if you have to carry heavy or bulky items (laptops, SLR cameras, equipment), I would choose a backpack every time. If you just want some odds and ends, larger than what you have in your pocket, I will use a messenger bag.
Maybe put what you want in the bag on the bed, think about what you really need and what you want. As mentioned above, my biggest dissatisfaction with backpacks is that I tend to bring a bunch of things that I don't really need. However, I will not confuse "don't need" and "might need". During a day trip, you can leave a little space for a hoodie, a few snack bars and a photo of your decision to buy, this is absolutely not wrong.