It's time to choose a package for the university again... For a college student, finding a suitable package is undoubtedly a very difficult decision. The two most common school bags are laptop tote bags and backpacks, but which one is more suitable for you?
If you are carrying heavy books, laptops, chargers, etc., then best laptop  backpack are obviously the first choice. They are easier to carry (especially for those who like to bring coffee, snacks, etc. between classes), kinder to our shoulders, and easier to carry for those who may be late for class)
Because the bags are worn on one shoulder, they tend to put more pressure on the shoulders and back. However, compared with the backpack, the backpack looks more fashionable and cute. Backpacks have more style choices, which are pleasing to the eye both inside and outside the classroom. Who has had such an embarrassing experience: going to a busy cafe/shopping mall, or having a conflict with someone under your feet while riding the subway with a backpack?
When choosing a cute handbag or college backpack, the key is to strike a perfect balance between function, comfort and style. Obviously, in terms of practicality, backpacks are the most popular, but handbags are obviously more popular than styles.
But have you considered a leather backpack? Leather not only has a reputation for quality and durability, but it also offers timeless style and can certainly make some handbags obsolete.Leather is the ideal replacement for the everyday polyester/nylon backpack that comes to mind when you first think of a backpack.
When choosing a tote bag, make sure there is enough space for your college essentials.Usually, the handbag is small and has only enough space to hold books and notepads.If you're bringing your laptop with you to college, it's important to find something that fits your device.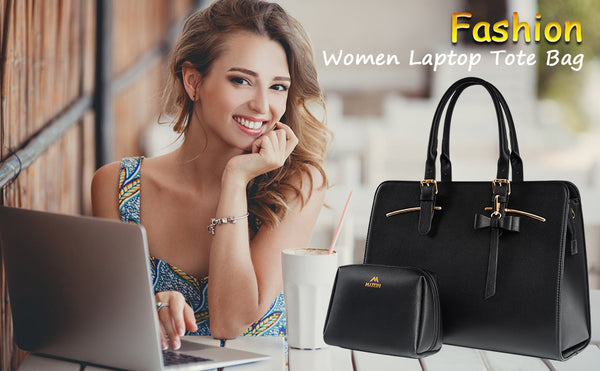 Many of our handbags are considered in the design of it - the classic handbag we have enough space to accommodate 15 inch laptop, to ensure that you don't want the excessive packaging your handbag, and ensure that it is very important, you are often used interchangeably to carry your handbag throughout the day, in order to reduce the risk of your shoulder and back pain.
It is best to consider both the backpack and the handbag, and alternating between the backpack and the handbag depending on whether the day's workload is light or heavy may be the best compromise, although it is certainly difficult on a student's budget.
Whether you choose a backpack or a handbag, whether it is MATEIN or other brands, there are some important considerations in common: fabric (if it is leather, make sure you choose high-quality leather, such as full texture), storage space, and practicality And comfort. Choosing a backpack that you need to carry a few days of books, and a handbag that you need to carry a few days of books, is usually the best compromise. This is a better excuse to buy two new bags!