A good backpack can be your best friend when traveling.It can carry your gear, act as a pillow, and even be a conversation starter.But not all backpacks are created equal. As a freelance writer, I often hop on planes to meet new clients, take pictures in exotic locations, or just enjoy the freedom of working wherever I like. I've used dozens of different bags to find the right combination, and even now I'm still searching for the "perfect" backpack. When evaluating the shoulder straps that should be evaluated before takeoff, here's what to look for in your smart backpack.
Does it carry your equipment comfortably?
When looking for a purse, the first thing you need to do is look at what you usually carry. For me, it's a laptop, a change for clothes (or two), noise-canceling headphones, a laptop, a passport, and my trusty travel pillow, depending on the time of the trip. This means that it needs enough space to hold everything without having to compress it too much.I found about 20 to 30 liters to be ideal. This medium size also means that even if you fill it up, you won't exceed most airlines' carry-on baggage limits.
Does it make it easy to get out what you need most?
Having to search through your bag while shuttling can be annoying. You need to take out the laptop at each security checkpoint, so the separate zipper compartment is gold. It saves trouble and time. A special, easily accessible passport bag is also epic. When you check your luggage out at check-in, even without a backpack, you feel like a professional jet. The pot holder is also handy for quenching thirst on the road. We suggest you to choose a TSA backpack for an airline trip.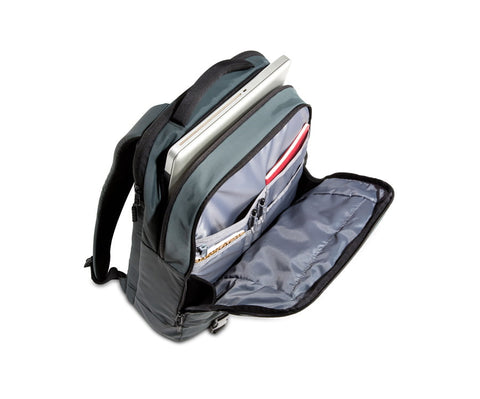 Is it comfortable to carry?
Good straps and enough padding and suspension are key. You'll be surprised how often a good backpack is tipped over because of a cheap or ill-designed belt. They need to be adjustable, and sternal straps and belts can also help when carrying loads. The key here is that you must hide them easily when you are not using them. Nobody likes clunky things. Breathable lining is also good. If you have to jump straight out of a plane to attend a meeting, the sweaty back will not look good.
Does it work in a variety of environments?
Because I navigate different cultures and need to adapt between work and play, I need a backpack for everyday use that I can use at home no matter where I am. Any weird belt or unnecessary design features are also a no-no. Personally, I like clean black. You don't have to follow this rule, but choose what suits you in every situation. This way, you don't have to update your backpack every two months to keep up with new trends. Nor is appearance the only thing. You want a product that is of good quality and lasts a long time, so you can enjoy it without worrying about seams coming loose and wasting your equipment.In short, look for quality and timeless style.
Some added security
I mostly work from home when I travel, so the laptop itself and the information stored there is very valuable.If the bag has a zipper that locks, a slash and a belt that locks, then I'm happy. Basically, it makes my journey easier, so I can think about what to do next without worrying about losing my stuff.I don't always use these features, but if I'm in a crowd, walking on public transportation, or a bit unsure of the situation, having some security options does surprise me.