Equipment selection is an important consideration for all backpackers. Although we tend to spend a lot of time choosing sleeping place or sleeping appliances, there is no doubt that wearing the right clothes is the most important aspect of all backpacking trips. Under normal circumstances, it can make your comfort unique. In some unforeseen circumstances, the right clothes may be the decisive factor between life and death. Even for a day hike, it is important to plan for all potential weather types in your large travel backpack.

1. Summer
For backpacking in the summer, when the temperature does not usually drop below freezing, we wear shorts and T-shirts or vests when hiking during the day. To make our clothes more tidy, we wear underwear or lined running shorts, hiking socks, trail running shoes, running leggings (for long-distance trips), sun hats and sunglasses. If the weather is cool, we wear long-sleeved shirts, waterproof shirts or rain jackets to keep the body heat.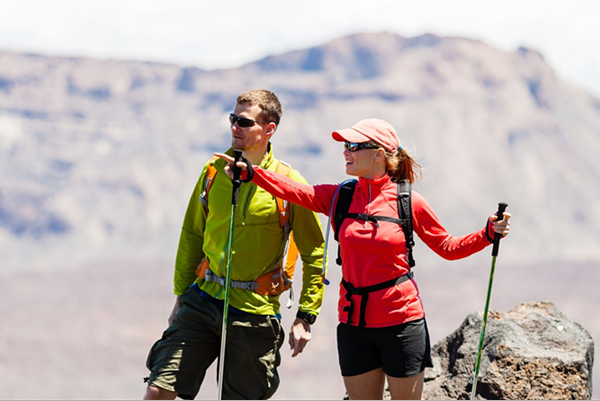 In the camp, we need to wear hiking pants and clean tops, warm socks, warm hats and jackets. Even if the weather forecast seems clear, we will wear light raincoats when we travel in all mountains. If the hike seems particularly cold or wet, we also need to wear light rain pants or fingerless gloves.
2. Spring and autumn
This season is usually cold and rainy, so they need some extra clothes. For these trips, it is best to bring a full set of summer clothes, but wear long trousers instead shorts, plus a fleece jacket to keep you warm, and you may wear extra tops and bottoms at night.

We may also bring stronger rain gear, including rain pants, raincoats, and rain gloves. If the weather forecast looks wet, we may even bring an umbrella. We will choose socks and shoes according to the terrain and weather forecast, and may bring 1-2 pairs of warm woolen socks. In these seasons, we will choose trail running shoes. However, if we expect to encounter a lot of snowy or muddy terrain, it is best to choose lightweight boots.

3. Winter
Winter hiking and backpacking require more clothing redundancy, because when the temperature drops below freezing, keeping warm and dry is a greater challenge. Please pay close attention to the weather forecast and make sure that your shelter and sleep system are sufficient to keep you insulated at night. Remember to bring enough clothes in your carry on backpack before going out.

In order to hike in the cold when it is snowing or raining, rain caps, warm caps, lining gloves, and primers and primers are usually required. If it's really cold, we add a lightweight wool coat and pants. Remember, when traveling in the snow, it is particularly important to wear sunglasses to protect your eyes to prevent snow blindness.

In the camp, we switched to the second dry base layer and put on a medium-weight down jacket for insulation. Be prepared to change an extra pair of woolen gloves to prevent the lining gloves worn during hiking from getting wet. Lightweight boots with sled socks and lined socks are sufficient for most winter trips even when hiking in the snow.
If you want to keep your food fresh when you go for a day hike, you can carry a backpack lunchbox.