DESCRIPTION
Feature:
Made of alcohol to improve skin health and hygiene and contains antimicrobial effect.Gentle and non-irritating, does not hurt the skin and moisturizing skin.Do not wash with water, fast drying and help to save water.
HAND SANITIZER IS VERSATILE -- Spray on children's hands—wipe clean! Spray on surfaces in public bathrooms, classrooms, buses, trains, planes. Use as an air freshener or deodorizer.
PERFECT FOR THOSE STICKY LITTLE MOMENTS -- Spray our Organic Hand Sanitizer onto hands to quickly kill germ when no soap and water are available. Perfect for on-the-go or on your little ones' sticky hands. Sanitize with a clean conscience.
KIND TO YOUR HANDS -- protecting your from harmful, it also leaves them feeling soft and smooth.
How to use :
Take an appropriate amount (2-3ml) of the product to moisten your hands and rub for 15 seconds until the liquid covers your hands, wait for drying, and do not wash with water.
Notice:
This product is for external use.
Do not take it internally.
Use with caution to people who are allergic to alcohol.
Please keep it out of reach of children.
Due to urgent production, the item may be shipped out in random packing.
SPECS
Net content: 60ml
Shelf life: 3 years
Package includes: 1pc Disposable Hand Sanitizer Gel
LIFETIME WARRANTY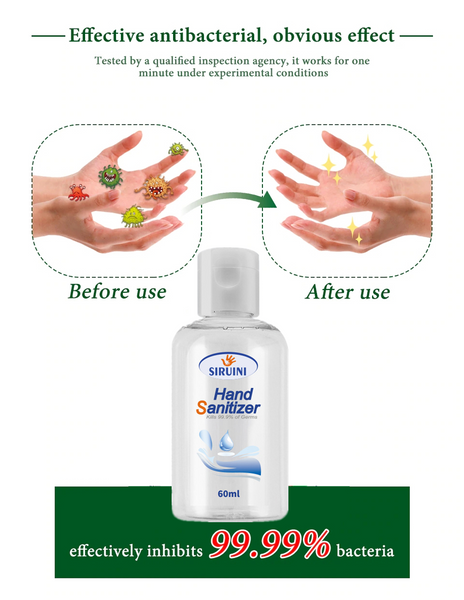 People who bought this product, also bought