Clear Electronics Travel Organizer Description
Dimension: 11*8.5*4 inches;
Material: Durable water-repellent nylon and soft EVA material;
Weight:

 

0.64 lb;

Applications: Universal cable organizer with Multi-function, Cable Storage, Cord Organizer Case, Tech Organizer Bag;
Package Content:

 1 * Clear Electronic Organizer Bag + 3 * Detachable Pad (Electronic accessories are not included);
Why not use this Electronics Accessories Organizer?
1. Well organize your electronic accessories and cords without spending time searching all over the place.
2. Clear case design, you can find the electronic accessories you need at a glance, saving the time of searching.
3. Keep your cables & electronic accessories tangle-free, no mess longer. It will be your best partner for business travel or daily use at home.
4. It will be a great ELECTRONIC GIFT for men/women on Christmas, New Year, Father's Day, and Valentine's Day.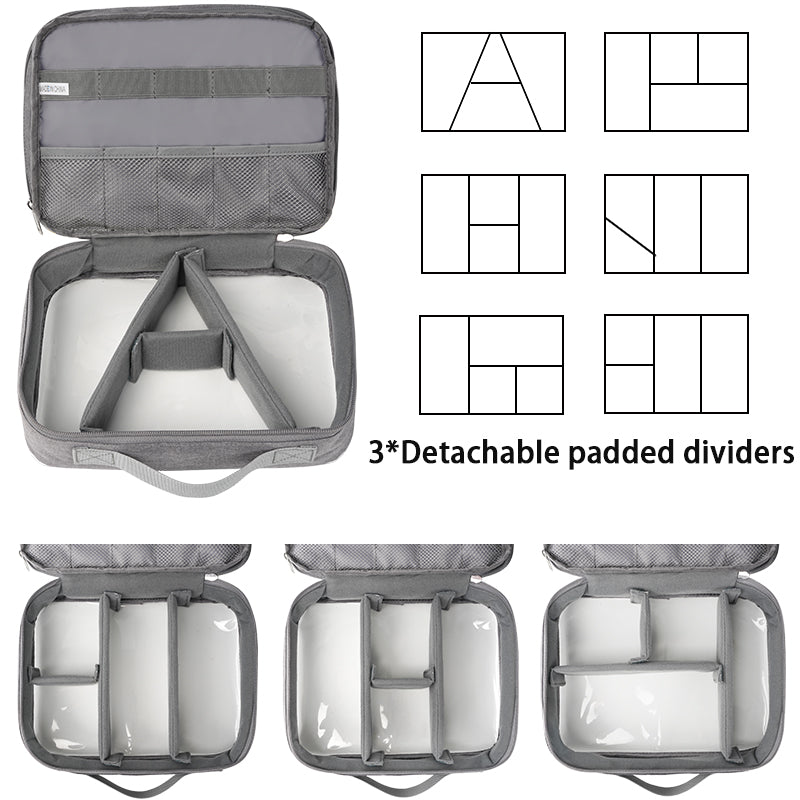 DIY ORGANIZER LAYOUT
3* Adjustable dividers provide excellent flexibility to maximize its storage space and keep items separated, easy to organize your larger accessories as you need.
The transparent bottom allows you to quickly locate the accessories without having to open the zipper.

Large Pocket In The First Layer
-1 large pocket can for ipad, power bank and other big electronic accessories
-The storage case comes with 3 detachable pads, and you can maximize layout space for storing large electronic accessories such as hard drives, mouse, ethernet cables, etc
Mesh Pockets and Elastic Bands
-5 mesh pockets to store USB, chargers, SIM card slots, etc.
-5 different sizes of elastic bands(slip-resistant) to store various cables. (This cord storage case can easily keep long cables like 10ft and 15ft)
Convenient DIY Layer
The storage case comes with 3 detachable pads, and you can maximize layout space for storing large electronic accessories such as hard drives, mouse, ethernet cables, etc

Large Pocket In The First Layer

1 large pocket can for ipad, power bank and other big electronic accessories
VARIOUS STORAGE OPTIONS
The gadget organizer offers elastic bands, mesh pockets, zipper pockets, DIY storage rooms that perfectly organize all electronic accessories in one place and prevent cable tangles so you can easily find what you need
TAKE IT ANYWHERE
This electronics storage organizer with a sturdy handle, no matter you are at home, traveling, or going to the office, you can take it with you

It can fit perfectly in your backpack or suitcase
SMOOTH METAL ZIPPER
Smooth metal zipper ensures long - term use of the cable organizer bag

The high-quality nylon and soft EVA materials, no peculiar smell, can provide better protection
Clear Electronics Travel Organizer Features:
Clear Designed & Keep All in One Place - The top and bottom of the electronics organizer travel case are fully visible, so you can quickly locate the location of accessories in the storage bag and take it out. This cable organizer bag will help you to organize all of your electronics accessories and various cables together. No more messy! It will give you a lot of help, whether on your trip or at home
Double Layers & Well Organized - The large travel cable organizer will keep your electronics accessories well organized. It has two main inside separate layers. The first layer has 6 multi-size elastic bands for your cables, 1 mesh pockets and 1 big pocket for your phone, large items. The second layer has 5 elastic bands, 5 mesh pockets for your various length of cables and tiny gadgets like SD card,USB
DIY & Large Capacity - Tech organizer bag with 3 detachable padded dividers with velcro allowing you to DIY the bottom compartments based on devices size. The top and bottom case is soft, so it allows for some expansion to accommodate thicker items. Compared with other small storage bags, our electronics organizer case is deep enough to hold larger accessories like headset, Nintendo Switch, power bank, kindle reader
Premium Material & Waterproof - The clear cable organizer bag is made of smell-less waterproof EVA and durable nylon material, which can protect your electronics accessories from getting wet. It is soft, allows for some expansion, won't break even in cold weather, and is very easy to clean. Transparent design allows for visibility to pass security checks at stadium and airports. It is also the best electronics gifts choice for Christmas, New Year, Valentine's Day, Father's Day
Portable & Travel Easier - Dimensions: 11 X 8.5 X 4 inch, this compact travel electronic organizer can be easily put into your backpack and luggage. Sturdy handle for easy carry, portable but not bulky. Ideal accessory organizer for gadgets when at home, traveling, working, on vacation, or at school. Best tech gifts for men who have everything, gifts for dad, gifts for boyfriend, gifts for him