For short-term business trips, in order not to increase the burden of travel, it is best to choose a lighter backpack to hold luggage. So, what kind of best business laptop backpacks should we choose for trips?
(1) If you need a very formal interview and need to wear a neat suit, Garment bag is very suitable. 
The fashionable design of Luggage garment bag with great way to keep performance clothes and dresses, makes it perfect for any form of transportation. Matein Garment Bags is a unisex product which comes with fantastic durability and waterproof ability. Multi-functional pockets fits all of your documents and accessories well.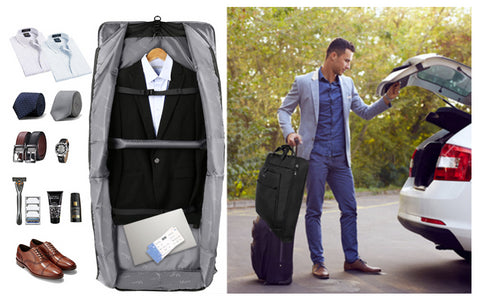 (2) If you are a business person who travels frequently, the best partner is not a briefcase, but a reliable and practical backpack to deal with temporary business travel instructions that come at any time.
First, the backpack needs to be simple and business-friendly in appearance, and can be used as a dual-use bag for daily work and travel. Otherwise, taking two bags on a business trip will increase the weight, and it will be time-consuming and labor-intensive to transfer daily necessities to the travel bag and items are prone to loss.

Second, the backpack is preferably an expandable backpack. In this way, it has a larger capacity when traveling, and the daily work will not appear too large.

Third, the backpack is self-important, light, waterproof and dirt-proof. Long-term burdens are unavoidable in the process of travel. Excessive weight brings too much pressure, and the backpack needs to be often placed on the carriage, luggage rack, and floor. It should not be too fragile and dirty.

Fourth, the functional division is clear and there are more bags. At least it should have an important document storage layer, a water cup storage bag, an umbrella storage bag, and a paper file folder layer.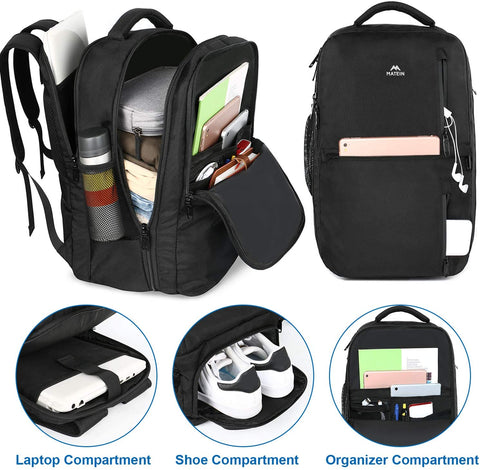 Fifth, it is equipped with a trolley case hanging belt. In addition to frequent short-term business trips, occasional long-term business trips require a trolley case, the backpack has a trolley case strap to save energy.

Sixth, it has a special compartment for notebooks, which is slightly higher than the whole to avoid collision with the computer when placing the backpack. Notebooks are a weapon for business people and must be stored and protected by a special compartment.

Seventh, other special needs. For example, I hope it can be fully opened at 180 degrees like a suitcase, so that it is convenient for me to organize my luggage, etc.
This Matein carry on backpack can fit all your needs.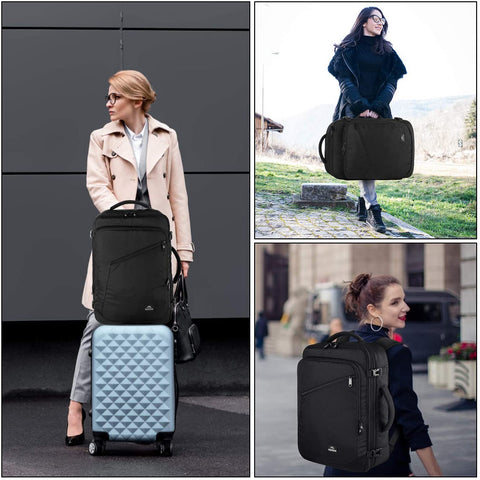 (3) Besides, you can choose a wheeled backpack. This Matein wheeled backpack can easy transformation between rolling on the ground and carrying on your back depending on your needs while on the go.