As checked baggage fees rise and competition for overhead bins becomes more intense, flight packing can make you sweat.The Best travel backpack can be easily carried on a plane as it is easy to carry in a crowded airport, but the irregular size and shape of the pack can also present challenges.You can check your backpack or use it as carry-on luggage, but pack it carefully to make sure you get on the plane as little as possible.
Check airline carry-on baggage size limits.
Most airlines allow you to carry a personal item, such as a wallet or briefcase, and a larger item, such as a carry on backpack.For many airlines, the maximum carry-on size is 22 x 14 x 9 inches.If the full backpack is large, it needs to be checked.
Put your things into a bag.
If you are using it as a carry-on item, make sure that all liquids, gels or aerosols comply with TSA 3-1-1 policy.Each item must not exceed 3.4 ounces, and all containers must be packed in a 1-quart plastic bag.When conducting a safety check, please remove the bag so that it can be examined separately.
Close and tighten all LIDS and compartments on the bag.
Secure each compartment with a TSA-approved lock.Even if you don't plan to check your luggage, this is a smart choice as it will prevent thieves from getting into your backpack while you're wearing it and walking around the airport.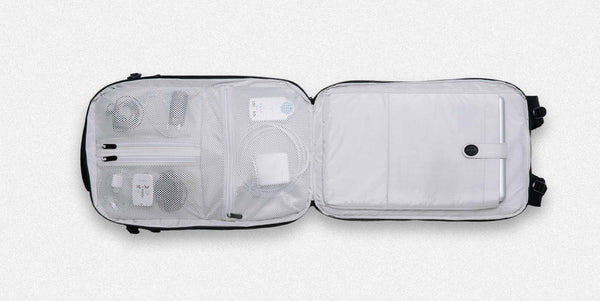 If you plan to inspect the bag and have any concerns about whether the bag is damaged or trapped by other items, place the bag in a zippered plastic bag or an inexpensive duffel bag.It's also a good idea to attach items such as sleeping bags or hiking gear to your backpack, as this will ensure that everything stays together.
If you choose to carry your backpack with you, place it on the plane.Place it in an overhead bin with the belt facing down and the top of the bag facing out.Once you reach your destination, it's easy to grab the backpack.