College Bookbag Description
Are you going to school? This college bookbag can be expanded to 36.8L. Travel laptops backpack owns 17+ independent pockets., which can make your items well-organized and easier to find. Durable and waterproof materials can provides a protection for your items in rainy day and long-lasting usage for everyday.
College Bookbag Dimensions: 14.96 x 11.81 x 4.33 inches;
Item Weight: 2.33 pounds;
Capacity: 36.8L ;
Material: Durable Water-resistant Polyester Fabric;


•

Laptop compartment

One shockproof laptop compartment fits under 15.6 Inch Laptop/Macbook
•

Main Large Compartment

Main compartment with 4 roomy pockets to store your clothes, books, travel accessories, daily necessities and school supplies
•

Front Organized Comparment

Owns 6 independent pockets to organize your small items like keys, earphones, pens, cards and find out easily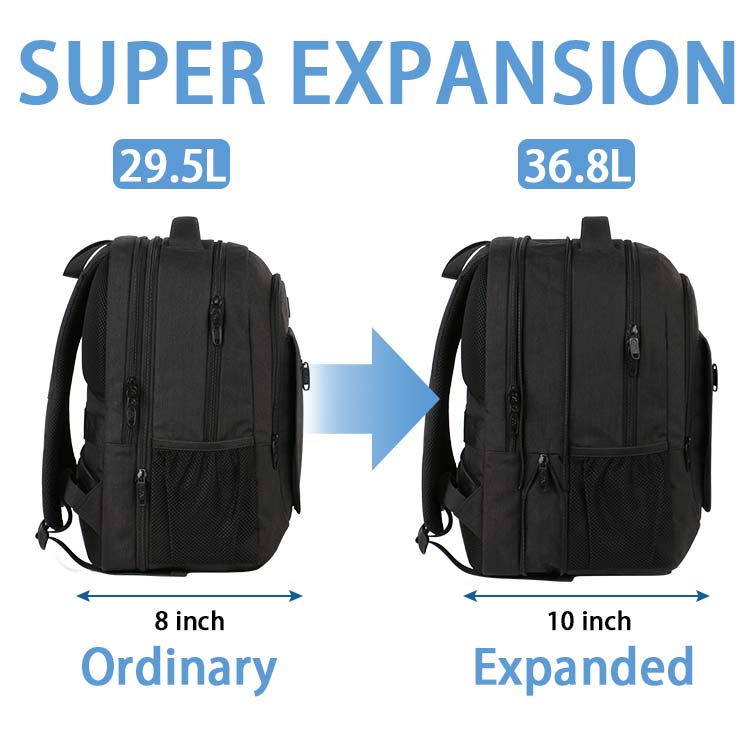 Big Capacity College Bookbag Backpack
Unzip the zipper on the main compartment to increase capacity from 29.5L to 36.8L. Extra large college bookbag backpack can easily hold notebooks for school, toiletry bag, camera bag and gear, etc.
•

Charging Cell Phone by Laptop

There is a hole that allow the usb charging cable connect to the laptop from the main compartment, so that you can charge your phone through laptop in the absence of other way. Very practical design!
•

Anti-Thief Back Pocket

Anti-theft pocket on the backside of the laptop bag keeps your passport, wallet, mobile phone, and other valuable items safe
•

Key Fob Hook

Unique Key Ring design, organized your key well and let you find out your key in all sorts of things easier
•

Luggage Strap

The luggage strap makes travel laptop backpack slide over luggage handle tube, free your hand and lower your shoulder stress while traveling. Just enjoy your trip!