Briefcase for man, is a narrow box-shaped bag mainly used to store paper and other documents. Lawyers often use briefcases to store cases. Businessmen and other professionals often use it to store laptops and important documents.

The earliest briefcases originated in the 14th century, when people used briefcases to store money and valuables. At that time it was called "budget", a combination of the Latin words "bulga" and "bolg". Now, "budget" means "budget" in business.

For most men, especially administrative staff, although the bag is not like a woman's handbag, it is also indispensable. The stacks of documents, materials, or agreements may one day become wealth. No matter what profession a man is, the right bag is his invisible business card.

But brief case are not as expensive as possible. Men with higher status mostly use leather briefcases. Although a little old-fashioned, it will increase the master's calmness. Most young people like casual lifestyles, and they are more inclined to choose bags made of the popular nylon fabrics. Nylon briefcases are stylish and comfortable. So there is a lot of choice, and you can decide according to your own capacity.

Today, men's handbags, shoulder bags, and briefcases are gradually enriched in categories, with subtle changes in style. In daily work, owning a few satisfactory office packages makes my daily work more orderly and smoothly. Choose a briefcase can refer to three points

   1. Professional men's office bags should choose more traditional square-shaped office bags, but the package size cannot be too large. In daily use, the materials can not be limited to leather briefcases, but tend to be more environmentally friendly. Standard briefcases are portable rectangular briefcases. Box briefcases, clip briefcases, shoulder briefcases and backpack briefcases and other types of leather bags cannot be used in formal occasions.

   2. Pay attention to choosing a business briefcase with a solid handle, matching with a variety of clothing, black, gray, brown and other dark colors become the protagonist of the briefcase.

  3. A briefcase with simple design but high quality can reflect the owner's rigorous and low-key without losing taste.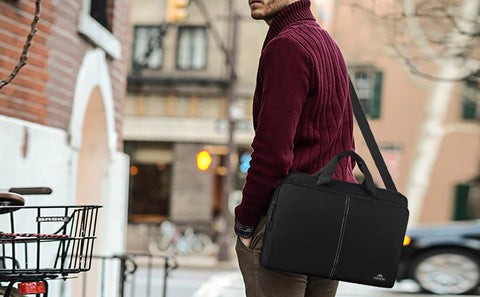 Matein business briefcase recommendation