Which backpack is good for traveling? How to choose a large travel backpack for different occasions? The following we will share with you the tips for choosing travel backpacks for various occasions, and teach you to easily choose the right backpack to make your travel more comfortable.

1. Leisure and play
In daily leisure life, young people like to go shopping and play with their backpacks. They don't need much capacity, as long as they are fashionable, and show their youthful vitality is enough! So what kind of backpack is better for leisure travel?

Backpack recommendation: Fashion backpacks are more suitable for ladies to carry when shopping and playing, and there are a variety of styles. Of course, the simple and versatile backpack is the most popular style.

Purchasing points: The canvas backpack has a variety of patterns, showing the youth college style, which is especially suitable for students to choose. Backpacks made of PU fabric or leather are suitable for fashionable ladies. They are smaller and more versatile and practical.

2. Short-distance travel
For those who like to travel short distances or frequent short business trips, there are not many clothes to bring. You can choose a travel backpack instead of a rolling briefcase. So what kind of backpack is better for short-distance travel?

Backpack recommendation: You can choose a travel laptop backpack for short-distance business trips, which is convenient to carry your laptop. For short trips within 3 days, you can choose a travel backpack of about 30L.

Shopping points: Short-distance travel backpacks mostly focus on the comfort of the shoulder straps, the breathability of the back and the appearance, and the capacity is moderate. When buying a laptop backpack, you must pay attention to the internal structure of the laptop bag and have mutiple pockets. There is shockproof cotton inside the backpack to protect the laptop to the utmost extent.

3. Long-distance travel
For those who like to travel long distances, they generally need to carry a lot of clothes. It is best to choose a large-capacity trolley case. Of course, large-capacity travel backpacks can also be considered, especially when you carry summer clothes that take up relatively little space.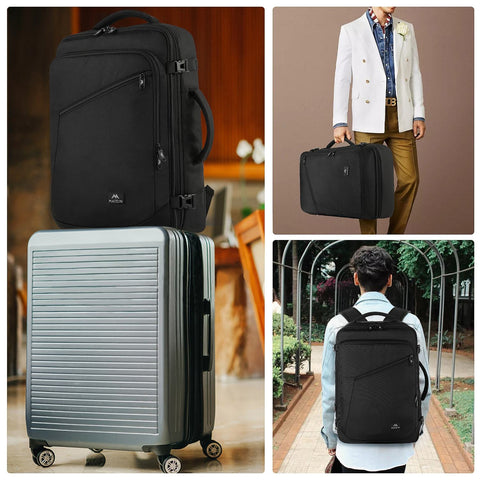 Backpack recommendation: Generally, a travel backpack of more than 50L is best for a trip of more than 3 days. The style is simple and versatile, and the functional partition should be more reasonable.

Shopping points: If the destination is very hot, use a backpack with a breathable net. If the tourist destination is rainy, buy a backpack made of water-resistent fabric. Due to the large capacity, the backpack need a strong bearing capacity, and the back is wider, which can increase the contact area with the shoulder, and it is more comfortable to carry.

4. Outdoor travel
Outdoor cycling: As the travel distance is long and the duration is not too long, you only need to bring a certain amount of drinking water, food, clothing, etc. When choosing an outdoor backpack, it's better to be light-packed and simple. The backpack should fit your body shape and not easily shake.
Camping trekking: Most trekking activities need to traverse many areas with complex road conditions and terrain, and the duration is generally one to two days, so there are more things to carry.
Carry on backpack
s are generally 25-35L suitable for short-term trekking, and the best choice for long-term 35-50L.
Professional mountaineering: mountaineering requires certain auxiliary tools. In addition, it usually lasts several days and needs to carry camping equipment such as tents and sleeping bags. Choosing a professional mountaineering bag must be able to hold a lot of things, usually 50-80L. Choose a backpack with a large internal capacity, compartments and side bags, so that items can be sorted and stored conveniently.