To the airport? What do you wear will make your trip more comfortable. You should dress comfortably, but that doesn't mean you can't look fashionable. So how should we dress?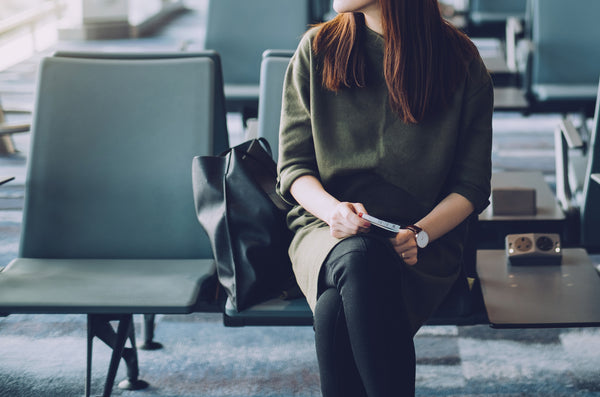 Bring a sweater. When you travel, you may change the climate, and the temperature of an airplane or airport may be different. For this you can wear a light sweater or jacket, if it's too warm outside, you can take a piece of clothing to the airport with you.
Even if you are going to a warm place, it is a good idea to bring a zippered sweatshirt or a simple cardigan. Some sweaters look very fashionable. Dark clothing is better because it can cover up spills that may occur on the plane.
If you travel in the winter, if you have a down jacket, you may want to bring a down jacket because it will not wrinkle, if you need to put it on the luggage rack.
To make your life easier, remove layered items, such as a sweatshirt, before you touch the metal detector. A light jacket is fine too.
Wear a metal-free bra. Of course, it depends on the bra itself, but some bras with underwires may trigger metal detectors at airports. This will take your time.
This may also result in you having to undergo a body search. This will not only make you feel embarrassed, it will also delay your time.
Why not try a metal-free bra. A simple padded bra will do, and a sports bra is the perfect choice for airport travel.
If you like your underwire bra, put it in your suitcase instead of taking it to the airport. Underwear with underwires can also make people feel uncomfortable during long flights.
Wear a comfortable bottom. You may want to be more comfortable at the airport (don't wear high heels!), but that doesn't mean you can't look pretty.
Many people end up wearing sports pants or sportswear to the airport because they are so comfortable. If that doesn't suit you, try a pair of beautiful leggings. It can be matched with a long sweater, hoodie or long top.
You can dress yourself up with a beautiful, personalized handbag. Celebrities often wear sunglasses and hats at the airport. Choose comfortable but stylish clothes.
For a simple matching image, wear a pair of comfortable and stretchy jeans when traveling.
Celebrities often shuttle in the airport, and they strive to make themselves look comfortable and stylish.
Wear loose clothing. Loose sweaters are very comfortable, especially when paired with jeans or leggings. Loose skirts or pants are also a good choice for flying.
A loose sweater will make you feel warm and comfortable, even if you have been sitting in the airport or airplane for several hours. If you want to wear skirts, choose long and floor-length skirts, not too tight or too short.
With a large cashmere scarf with a sweater (or just a shirt), it can almost serve as a blanket on an airplane. Another benefit of loose clothing is that it can prevent blood clots. Although synthetic clothing may be flammable, it is also less likely to wrinkle, which can make it a good choice for aircraft.
If the weather is warm, a patterned t-shirt is also a good choice. It is both casual and stylish, so you are both stylish and comfortable. However, do not wear t-shirts with offensive remarks. This may cause you trouble at the airport.
Layer it up. Usually when you travel, you will switch between different climates or temperatures. Maybe you are going to a warm or cold place. Or the temperature on the plane will change. Come and prepare.
For example, you can wear comfortable jeans, a simple t-shirt, jacket or sweater, a pair of comfortable loafers or white sneakers
If you wear clothes layer by layer, you don't have to bring so many clothes. You can take off one layer (such as a sweater), and when you land in a warmer place, you can enjoy the vest underneath (and vice versa). If you are flying between areas with different temperatures, you should dress for colder climates.
If necessary, cashmere, shawls, scarves or scarves can be used as temporary pillows to make you sleep more peacefully on the plane
Even if the weather outside is not cold, be prepared for the aircraft to sometimes get cold. You should also penetrate breathable fabrics, such as silk or cotton. You will feel cleaner and fresher.