Sometimes you carry a large travel backpack to catch the flight, but found that the flight was delayed. Mood will become anxious instantly. The flight delay is really annoying. After all, the reason you come to the airport is because you want to reach your destination faster.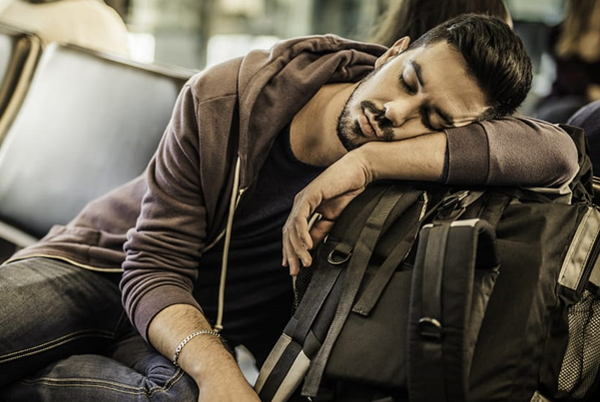 But flight delays are unpredictable. Maybe the weather has become unexpectedly unpleasant or there has been a mechanical failure. Because when the plane is delayed or cancelled, what can we do?
Before arriving at the airport:
1. Check the flight status 24 hours before the plane takes off
Sometimes the flight may be cancelled early due to the weather. Therefore, you should check the mail sent from the airport one day before departure to avoid going in vain.

2. Purchase travel insurance
Travel insurance is not only for personal injury while traveling, but it can also provide you with delay insurance. If the delay is more than 4 hours, you can usually insure the food or hotel room.

3. Pack your carry-on luggage as much as possible
Try not to carry too much luggage, checking luggage or connecting flights may waste your time. Carrying on backpack can give you greater flexibility. For example, if a flight is cancelled, you can easily bring your luggage back to you or choose another airport.

After arriving at the airport:
1. Ask the staff friendly for details
When you learn that your flight has been delayed or cancelled, you must have many questions in your heart. Don't be anxious and angry at this time, because this is not necessarily the staff's fault. Keep a friendly attitude and ask the staff to understand why the delay or cancellation. At the same time, you need to know whether you have any rights to exercise, such as food vouchers, discounts, refunds or accommodation.

2. The delay can be considered to enter the lounge within 3 hours
If the delay is within 3 hours, I'm sorry, but many airports may not provide compensation. But if you realize there is a delay, you can let yourself into the airport lounge. They are usually not expensive, and it can reduce your anxious waiting at the airport. You will get food and drinks, as well as magazines, Wi-Fi, comfortable chairs, TV room and frequent showers. Although this is an additional cost, it is worth it.


3. If the flight is cancelled, consider changing the airport or waiting for the next flight
If the flight is cancelled, the airport will first do its best to arrange another flight or a full refund for you. At this time, the choice is yours, you can consider waiting for the next flight or changing airports.
Matein rolling backpacks recommendation